Corporate Shared Value
Monitoring the corporate shared value
From 2014 to 2016, Ipsos has carried out a survey for TIM, focussed on monitoring Corporate Shared Value, with a view to measuring:
the level of awareness and value attributed to CSV;
the opinion on TIM and other major Italian businesses;
the opinion on the foundations and knowledge of the link with the major Italian businesses;
the knowledge and assessment of the individual projects promoted by TIM and Fondazione TIM.
The survey recorded the opinion of various stakeholders1, reporting the following results:
for 2016, a different, more evolved reference scenario for matters of Corporate Social Responsibility. Both from the viewpoint of the population and the opinion leaders, increasingly high expectations are recorded with regards to businesses, in terms of undertakings in this specific area. It is considered, in fact, that there is growing attention and awareness of sustainability matters by consumers, facilitated by an increasingly rapid dissemination of information that, in turn, progressively exposes the action taken by businesses with regards to consumers. Thus a further evolutionary dynamic is seen, which more closely connects sustainability as a central element of reputation.

the evolution route of the paradigm of responsibility linked to the maturation of a new awareness on its fundamental role for the enterprise:

In the specific case of TIM, a positive opinion is confirmed on the undertaking in terms of Corporate Shared Value: the percentage of those expressing a positive judgement grows from 38% in 2014 to 43% in 2016.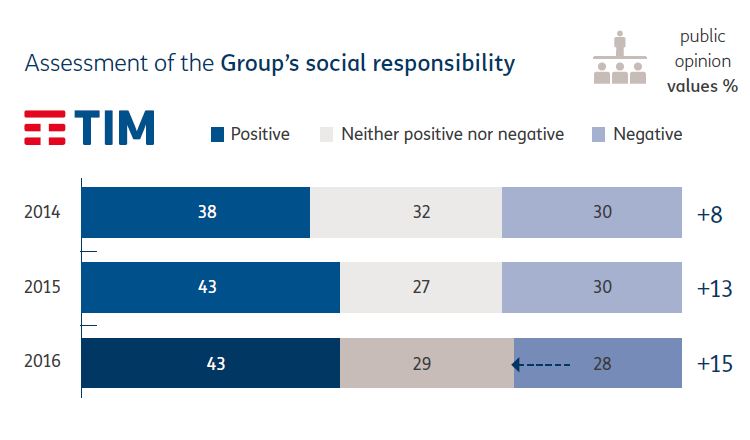 Fondazione TIM has also recorded a positive trend as expressed in the graph below.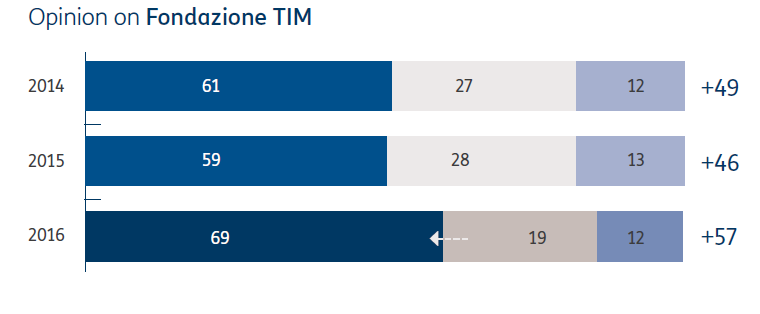 The results achieved in 2016 are even better because they are recorded in a context where stakeholder expectations are more challenging, in a more timely, aware, circular framework of analysis.